Vinyl Fitting & Installation Totton
At Avellino Flooring, we offer all kinds of carpets and vinyl planks. Our team will work with you to find the right floor for your home's needs – no matter what they are! Whether you want to upgrade or simply wanting something more aesthetically pleasing than previous floors have been; our knowledgeable salespeople can help make this happen quickly without sacrificing quality control.
Why Choose Vinyl in Your Home?
Vinyl flooring is one of the most durable types of floors in the market. It can hold up to heavy foot traffic. Vinyl flooring looks a lot like hardwood floors, some versions of the flooring are waterproof. There are two types of Vinyl floors – Vinyl Sheet and Vinyl Plank. The Vinyl sheet is an older version of Vinyl that was not as durable as the Vinyl plank. Vinyl planks are waterproof and allow your family to have fun without worrying about spilling water and beverages. It also makes it easy to clean the floor.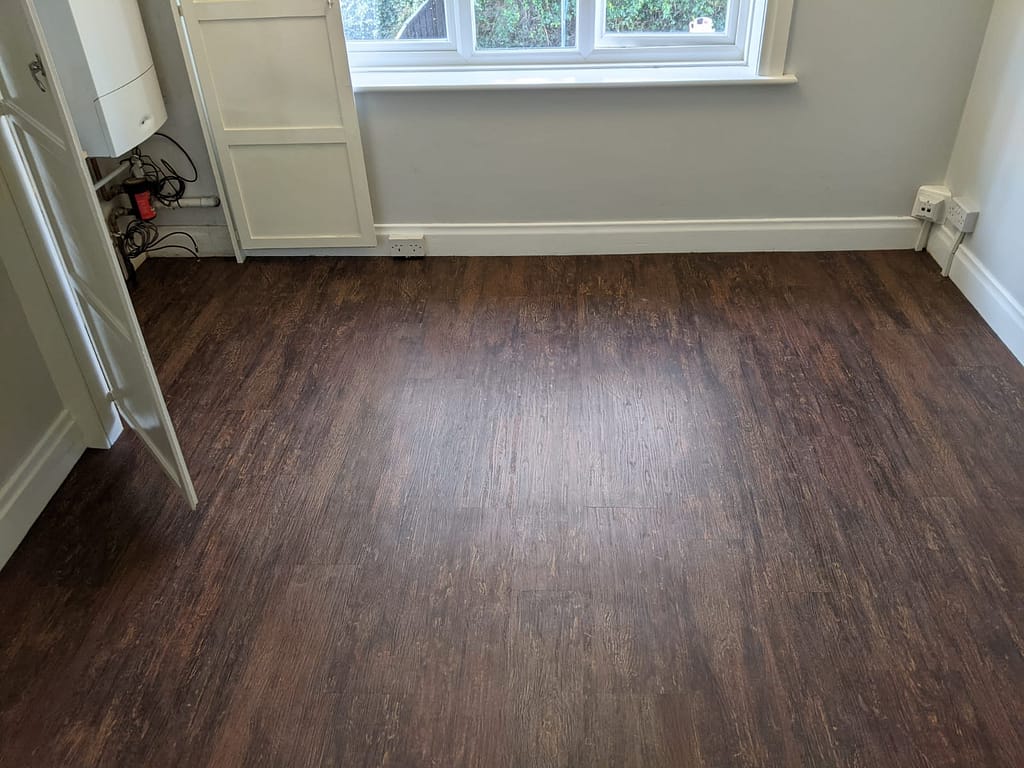 Enjoy Top-Notch Vinyl Flooring
Our team is highly trained and qualified to fit vinyl flooring. We only have the best onboard, so you can trust that we will exceed your expectations with our knowledge of the newest trends in vinyl fitting for customers' needs. Our regular training programs help keep us up-to-date on what's going on industry-wide while ensuring customer satisfaction remains high!
Easy to Maintain
Vinyl floors are easy to maintain in all seasons. Like any other floor, it just needs regular cleaning. You do not need to use any expensive products or stick to a strict schedule for it.
Diverse Range
Vinyl planks are a great option for those looking to add something different and unique. The variety of colours, designs, shapes – the options really do seem limitless!  Additionally, vinyl planks can be manufactured to look like any other floor thanks to new advanced technology. Obviously, your options are limited to what manufacturers put out in the market. Lucky for you, manufacturers make a wide range of products to suit clients with diverse tastes.
There are vinyl planks in the market that look like flower gardens and others with an appealing white marble design.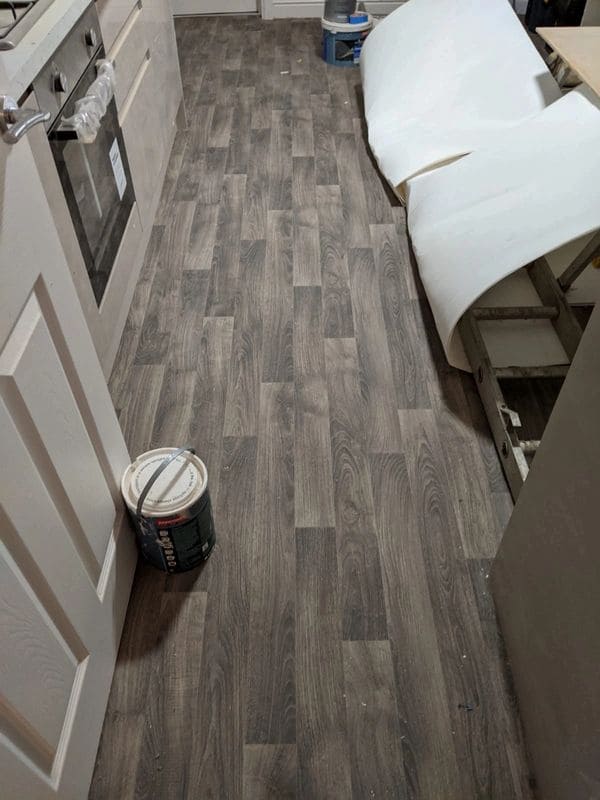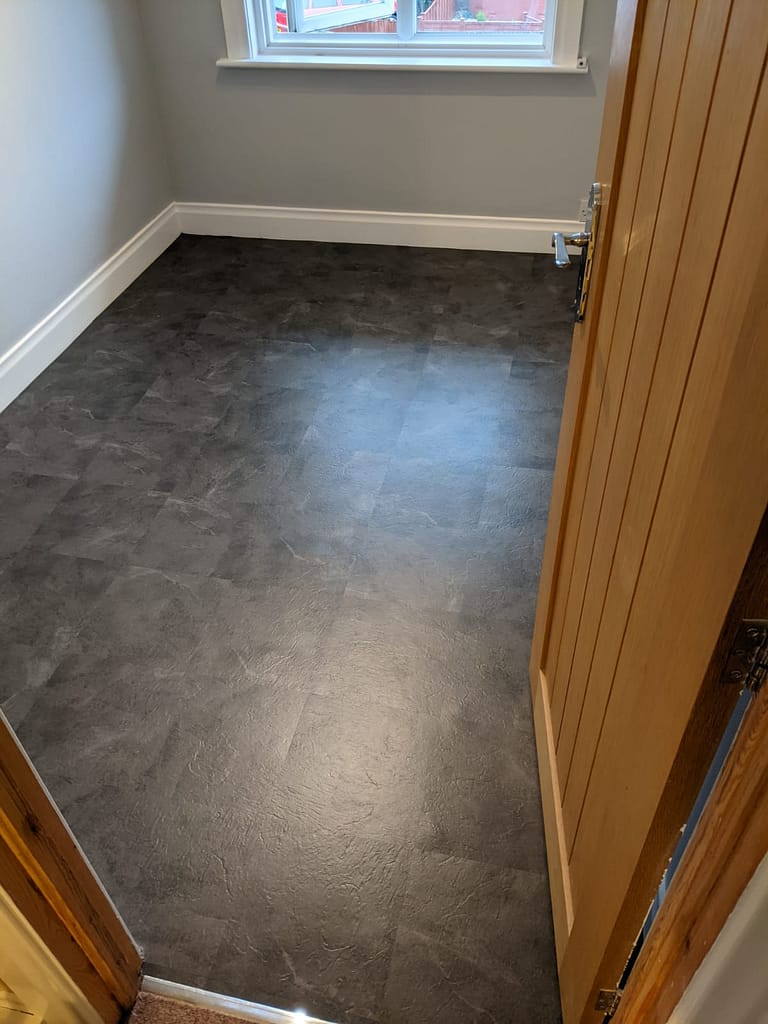 Easy to Install
Because Vinyl planks are made of PVC primarily, they are light and easy to move about during installation. The basic vinyl plank comprises three layers; the base layer, pattern layer, wear or surface layer. Many vinyl planks have extra layers to help in insulation and soundproofing.
The Key to A Successful Installation
We offer the best vinyl installation services in Totton and the surrounding areas. This is because we have a team of highly qualified technicians that understand the importance of a good floor to your home.
We have years of experience on the job and aim to improve the functionality of your home by giving you the best-done floors any homeowner could ask for.
Free Vinyl Installation Quote
The Foundation of Any Room
The floor is the foundation of any room, and as such it will determine the look and feel, the very character of that room. You need to carefully consider what the room will be used for, and choose your flooring base and design to meet those needs.
Vinyl flooring is probably the most popular floor covering for both homes and businesses. It offers a durable, cost-effective floor in unlimited designs and patterns to set the tone you want for any room.
What is Vinyl Flooring?
Vinyl flooring today is not the vinyl sheets of yesteryear. Today you will get Vinyl plank flooring, an incredibly durable substance. Your basic Vinyl plank is made of three layers: the base layer, a pattern layer and the durable, transparent wear or surface layer. Depending on your needs, you can also get Vinyl planks with extra layers for insulation and soundproofing.
Why Choose Vinyl Flooring?
People choose Vinyl Flooring because of the look, its durability, easy maintenance and cost.
You can choose Vinyl floors that look like hardwood – any kind of hardwood. Or if you prefer a marble floor or even a flower garden, there you go. There are hundreds, if not thousands, of Vinyl patterns to choose from.
Although Vinyl plank is a warm, friendly surface to walk on, it is incredibly durable and can handle heavy foot traffic. Vinyl is easy to maintain as well. Like any other floor, it will require regular cleaning, but you can use regular household products and you do not need any special equipment. Any liquid or beverages spilt on Vinyl can simply be wiped away.
Although properly fitted Vinyl flooring looks expensive, it is one of the most affordable kinds of flooring on the market – starting at just £7.99m² from Avellino Flooring.
Non-disruptive installation
Although Vinyl flooring installation is a craft that requires skill, the process is quick and hassle-free for the occupants. The Vinyl planks are light and easy to carry and you won't suffer excessive noise and mess. Professional fitters will take care of your home and the furniture in it, and leave you with a beautiful floor to enhance your home.
Avellino Flooring – Personalised Service Recognised by Big Business
Avellino serves Southampton and surrounding areas. The company was founded in 2004 by Jade and Vince, and they still manage the business. All the fitters at Avellino are trained by them and work full-time for the company. This means you won't get the shoddy work of a contractor being paid per square metre.
Our team is small and dedicated to the success of our company. You will deal with Avellino Flooring from start to finish when getting your new floor. There will be no outsourcing, excuses or miscommunication. When you phone us, you will speak directly to Jade or Vince, the owners.
This work ethic and attention to detail have led to us being approved by John Lewis, the highest accolade a fitter can have.
We consider ourselves tradesmen, not salesmen, and the quality of our work is recognised not only by proud homeowners but local and nationwide landlords and letting agents as well. These include Countrywide Group, Pearsons, Belgarum, Charters, Posh Pads and Savills.
Speak to us
If you want to improve your home's value, speak to us. We guarantee the best service and price in and around Southampton. No extras or hidden charges. Call us now.
Meta Title: The best Vinyl flooring in Southampton
Meta Description: Vinyl flooring is beautiful, durable and easy to maintain. Enhance the value of your home with new floors fitted by Avellino Flooring.
Contact us Today
Don't forget that good floors improve your home's value. Give us a call today and get the best service in town for the best price. We guarantee you no extra or hidden charges. We have worked with local Charters, Posh Pads and Savills since 2004. If you're not looking for Vinyl planks, we also offer fitting services for all your carpeting needs. Give us a call today and get only the best from Avellino Flooring.